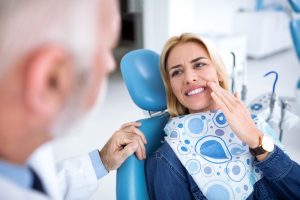 When you woke up this morning, you noticed that despite keeping up with your regular oral hygiene routine, your gums felt sore and bled more than usual. You don't want to overreact and show up to your dentist's office in a panic over nothing, but you wonder how you are supposed to tell what signs are worth getting checked out. Your dentist in Centerville may be the first person able to spot a serious health condition in development during your routine checkup and cleaning. Here are 5 oral health problems that you shouldn't be ignoring.
Pain In Your Jaw And Mouth
There's a whole spectrum of health problems that could result in pain in your jaw or mouth. From stress to having a heart attack, this kind of discomfort is best addressed by your dentist so they can identify its source. Some possible treatable causes could be from a toothache, sinus problems, or gum disease.
Jaw and mouth pain paired with other symptoms like cold sweats, shortness of breath, nausea, or sudden dizziness could mean that you're having a heart attack. Be sure to seek immediate medical help if you are exhibiting these symptoms.
Sores, Patches, Or Lumps In Your Mouth
Red and white sores, lumps, or patches in your mouth could be the result of an infection or oral cancer. If you have oral wounds that won't seem to heal, that can be another sign of oral cancer. These lesions appear mostly in people who use excessive amounts of tobacco or alcohol. To determine whether or not this is a sign of oral cancer, you should look for the following symptoms as well:
Tongue numbness
Loose teeth
Ear pain
Difficulty swallowing
Bad Breath
Although bad breath could be a sign of small problems such as poor oral hygiene or a result of certain foods you eat, it can also be a symptom of larger issues, such as:
Sinus infections
A lung infection
Liver or kidney disease
Digestive problems
Diabetes
Typically, you should only go see your dentist about bad breath if it doesn't seem to go away despite brushing and flossing regularly and avoiding odor-causing foods.
Bleeding Or Sore Gums
Not only can these be a sign of progressing gum disease, but they're also a problem for people with medical conditions such as diabetes. If these are symptoms of diabetes, you could be at risk for developing gum infections and inflammation because your immune system is weakened.
Other oral symptoms for diabetes include:
Dry mouth
Fruity-smelling breath
Fungal infections
Losing Teeth Or Loose Teeth
If your teeth are either loose or begin to fall out, this can be a sign of advanced gum disease or early-stage osteoporosis—a disease that causes your bones to become brittle due to decreased density. Studies have linked tooth loss to osteoporosis because it affects bone loss in your jaw, which anchors your teeth. Most cases of this disease go undiagnosed until a bone breaks or fractures and a doctor can inspect it. Tooth loss is also a common occurrence due to aging. By the age of 65-72, about 25% of Americans have lost all their teeth.
Don't wait until a symptom progresses before going to see your dentist. You can increase your chances of early diagnosis and treatment by attending your semi-annual checkups and cleanings. Let them do the work so you don't have to worry.
About the Author
Dr. Dan Passidomo got his doctorate from the University of Kentucky College of Dentistry in 1993. Since then, he has provided his community in Centerville with the most advanced dental treatments using the latest technology. From basic preventive care to full mouth reconstruction, you're sure to get the unique treatment you deserve with Dr. Passidomo. For any questions or to schedule an appointment, visit his website or contact 937-886-9935.