Porcelain Veneers – Centerville, OH
Hide Cosmetic Flaws With This Custom-Crafted Solution
Do you love your reflection or do you avoid mirrors because you feel embarrassed about your smile? Conceal unattractive cracks, chips, discoloration, or gaps between front teeth with natural-looking porcelain veneers. Custom-shaped and shaded to complement the appearance of the rest of your mouth, veneers cover imperfections so that you can enjoy a flawless smile. This solution can do it all in only a couple appointments with Dr. Passidomo, your dentist in Centerville. Whether you have an upcoming wedding or would like an improved grin to boost your confidence, our team of dental professionals can help get your journey started when you schedule a consultation with us today!
What are Porcelain Veneers?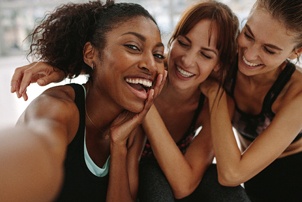 Veneers are thin, durable shells custom-crafted from dental porcelain to fit over the visible portion of your damaged teeth. They can conceal a variety of cosmetic flaws and change the shape, color, and size of your teeth to create a symmetrical and bright smile. After your initial consultation, you can decide whether they're the right solution for you.
The process of getting porcelain veneers in Centerville takes place over the course of two separate visits to our office. After we've inspected your teeth and oral health and determine you're a good candidate, we'll prepare your mouth for the veneers by removing a small portion of your natural enamel. This will allow the shells to lay flush with the rest of your teeth and keep them from protruding from your mouth. We'll then take images and impressions of the teeth you'd like to have repaired and send them off to our dental laboratory to craft your permanent veneers.
Once they arrive at our office, we'll call you in for your last visit. We'll make sure that the porcelain shells are crafted to our specifications and remove your temporary ones. After that, we'll place your permanent veneers by cementing them to your natural teeth. The last step will be a quick polish, and then we'll send you on your way!
What are the Benefits of Getting Veneers?
There are quite a few benefits of choosing porcelain veneers to improve the look of your smile. Dental porcelain looks and feels like your natural teeth because it's gentle on your gums and reflects light just like your enamel does. This makes them virtually indistinguishable from your other teeth. They're also a long-lasting cosmetic treatment as opposed to other procedures like teeth whitening and cosmetic bonding. Instead of having to get multiple services, you'll just need to get one to fix several problems like gaps, chips, cracks, and severe discoloration.
How Do You Take Care of Dental Veneers?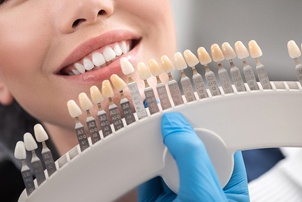 There are quite a few benefits
With the proper care, your dental veneers can last up to 15 years. They also don't require any special treatment! While they're incredibly strong and durable, it's still important to continue your oral hygiene routine of brushing twice each day and flossing at least once daily. While dental porcelain is stain-resistant, you can make their brightness last by rinsing your mouth with water any time you drink or eat something that could stain them.
At Daniel J. Passidomo, DMD Cosmetic & Family Dentistry, our team is focused on providing patients with exceptional care that produces fantastic results. Don't hesitate to contact our office and schedule a consultation with Dr. Passidomo today to learn how dental veneers can boost your confidence and repair your cosmetic flaws.