Partials and Full Dentures – Centerville, OH
Custom-Made Restorations for Missing Teeth
You need your teeth to speak clearly and eat whatever you like; if they're missing, these everyday tasks may suddenly seem impossible. Whether it's to replace a few teeth or an entire arch, dentures can significantly increase your quality of life and give you the confidence to smile again. Dr. Dan can provide you with a custom-made, natural-looking restoration. If you or a loved one is facing a life without teeth, contact our practice today.
What are Dentures?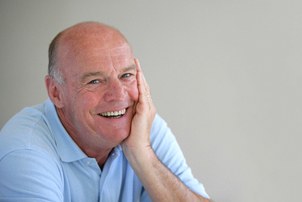 Dentures are removeable false teeth used in cases of extensive tooth loss. There are two basic kinds:
Full Dentures: Likely what you'll think of at first, full dentures are used when all of the teeth in your upper or lower jaw are missing. (Any remaining teeth are extracted first.) They usually consist of an acrylic base and porcelain teeth. They're usually held in place via natural suction, but a special adhesive can also be used.
Partial Dentures: Sometimes there will be a few gaps in your smile, but you'll still have plenty of healthy teeth worth saving. Partials are designed to fill in the empty spaces. In most cases, a metal clasp will secure them in the mouth.
Dr. Dan can perform a thorough examination of your mouth to decide what type of restoration would work best for you.
Benefits of Dentures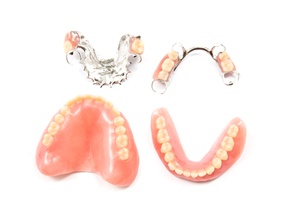 A Great Smile: It's been found that missing teeth can have a negative effect on your social life and your career. Dentures will give you a beautiful new set of pearly whites that you'll be happy to show off.
A Varied Diet: Not being able to chew properly severely limits what you can eat and leads to poor nutrition. With dentures, you'll be able to enjoy most foods again and keep your body happy and healthy.
Cost-Effective: Compared to other treatments, many patients find dentures to be more affordable.
Long-Lasting: By taking care of your false teeth, you make them last for up to a decade.
Who's a Good Candidate for Dentures?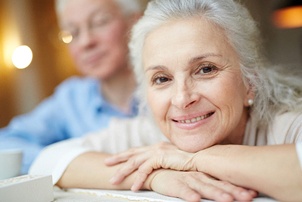 Dr. Dan usually recommends dentures for patients who have suffered from significant tooth loss; if only one or two teeth are missing, a single dental implant or a dental bridge might be more appropriate. When getting dentures, you'll need to have enough healthy gum tissue and jawbone remaining to support the false teeth. We'll take all the necessary factors into account to help you decide the best way to repair your smile!
Implant-Retained Dentures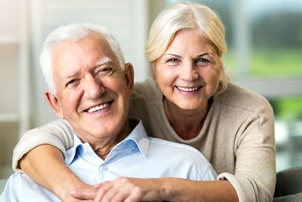 If the density of your jawbone allows it, dental implants can be used to support a denture. An implant is a metal post that's surgically placed beneath your gumline and effectively serves as the "root" for your new teeth. Full dentures can often be supported by four to eight implants.
False teeth secured by dental implants won't slip, and the chewing power they provide is almost equal to that of natural teeth. The implants will also help you maintain a more youthful appearance by preventing bone loss in your jaw and maintaining a healthy facial structure.
Understanding the Cost of Dentures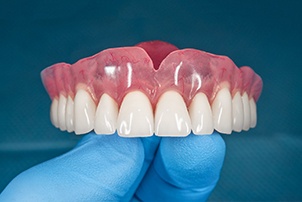 Dentures are highly customized based on your specific needs, so it's hard to provide a specific price until you've completed a detailed exam at our office. Certain factors can have a larger impact on what you'll pay, including the number of teeth missing, the materials, whether dental implants are combined with your denture and more.
Factors that Affect the Cost of Dentures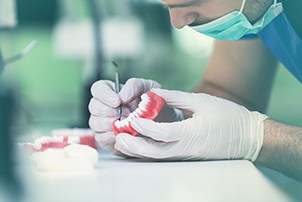 While there are several factors that can influence the cost of dentures, the most notable ones include:
Preparatory treatments needed to make room for a denture (i.e. tooth extractions, gum disease therapy, etc.)
Types of acrylic used to create the base of the denture (this is the portion that is gum-colored and customized to match your natural gum tissue)
Materials used to create your replacement teeth (typically made from acrylic to lower costs, but can be made with dental ceramic for better esthetics and durability).
Remember that opting for cheaper materials is not typically the best route to take when choosing a denture. For something that's going to be in your mouth most of the day, you'll want it to be of a certain quality.
Are Implant Dentures More Expensive?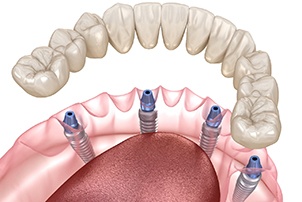 Implant dentures are going to be more expensive by default because of the additional steps needed to provide them. For example, dental implants need to be surgically placed into the mouth. This is what makes them more permanent and longer-lasting than traditional dentures. It also means they won't slip or shift out of place while in use, even when chewing very tough, hard, or crunchy foods. Compared to dentures that need to be replaced every 5 to 7 years, implant dentures can last for decades. These benefits and more are what make them a better long-term investment despite the higher upfront cost they carry.
Does Dental Insurance Cover Dentures?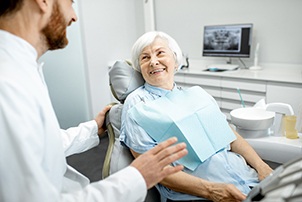 Dentures are generally considered a major procedure, which means they typically receive at least partial coverage from most dental insurance plans (i.e. up to 50%, depending on the plan and insurance provider). However, you'll need to confirm your coverage with your insurance company directly before making any commitments to treatment. Our team is happy to facilitate this process as well so you can have a better idea of your costs beforehand.
Other Options for Making Dentures Affordable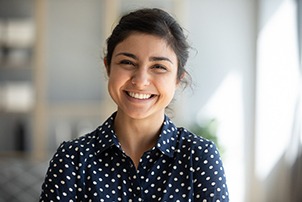 There are other options to consider even if you don't currently have a dental insurance plan to utilize. Third-party financing solutions can make it easier to pay for your replacement teeth. For example, American General and CareCredit allow you to make payments on dental care over an extended period of time (typically several months to over a year). With little to no interest attached to these monthly payments, making even the most expensive dental services affordable becomes possible even on a tight budget.
Denture FAQs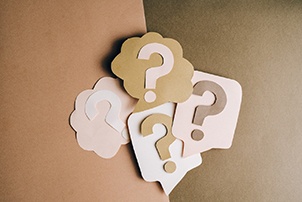 Dentures in Centerville have been a trusted tooth replacement method for generations. Although they are supported by decades of success, they are a big investment. Don't worry if you have some concerns. Here are the answers to a few frequently asked questions about dentures until your consultation.
Can I sleep with my dentures?
Your denture dentist in Centerville will instruct you to wear your new teeth for 24 hours; however, after the first day, you'll need to remove them nightly. Although you might be concerned about getting caught without your teeth, your oral health and the lifespan of your denture relies on taking it out before bed. Circulation in your gums is restricted while you're wearing them. If the soft tissues aren't given time to rest, sores, inflammation, and infections can occur. Not to mention, harmful oral bacteria can collect on your denture, which can have adverse oral and general health consequences. Bacteria buildup can also damage your denture, shortening its life expectancy. Taking your denture out before calling it a night gives your gums the break they need to recuperate while allowing you to clean your mouth and denture well. Besides brushing, soak your denture in a nightly solution to kill any lingering bacteria.
Do I use regular toothpaste to clean my dentures?
Your denture will function as your natural teeth, but they aren't cleaned the same way. Abrasive dental products can scratch the surface of your dentures. Not only can they affect their strength and aesthetics, but food particles and plaque can get trapped in the small spaces, leading to odor-causing bacteria. Your implant dentist recommends using a soft-bristled toothbrush and mild hand soap or dishwashing liquid. You can also purchase OTC cleaning products designed for denture wearers.
Can I eat steak with dentures?
It is entirely possible to have a steak with dentures, but only in moderation. Tough meats will put more wear and tear on your denture, causing you to need a replacement sooner. Chewy meats can also cause gum and jaw pain. If you can't resist a juicy steak, it's best to choose meat with little connective tissue or muscle fibers that's tenderized before cooking it. Cut the meat into small pieces to make them easier to chew. You can add the support of a denture adhesive for extra stability when enjoying your favorite meat dishes.
Does an upper denture always cover the palate?
If you need to replace your upper teeth, you might be envisioning a prosthetic that covers the roof of your mouth. It's normal to be concerned about a top denture changing the way your food tastes, but there's no reason to worry. Dentures come in many styles, like palate-less options. Instead of a traditional upper denture, you can choose one with a horseshoe appearance, like those used for the lower arch or along with dental implants. Your dentist will explain all your options to find the ideal denture for your needs and preferences for the perfect investment you desire.