Partials and Full Dentures – Centerville, OH
Custom-Made Restorations for Missing Teeth
You need your teeth to speak clearly and eat whatever you like; if they're missing, these everyday tasks may suddenly seem impossible. Whether it's to replace a few teeth or an entire arch, dentures can significantly increase your quality of life and give you the confidence to smile again. Dr. Dan can provide you with a custom-made, natural-looking restoration. If you or a loved one is facing a life without teeth, contact our practice today.
What are Dentures?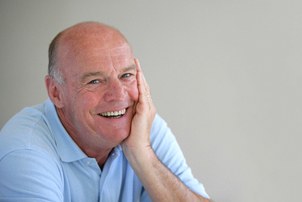 Dentures are removeable false teeth used in cases of extensive tooth loss. There are two basic kinds:
Full Dentures: Likely what you'll think of at first, full dentures are used when all of the teeth in your upper or lower jaw are missing. (Any remaining teeth are extracted first.) They usually consist of an acrylic base and porcelain teeth. They're usually held in place via natural suction, but a special adhesive can also be used.
Partial Dentures: Sometimes there will be a few gaps in your smile, but you'll still have plenty of healthy teeth worth saving. Partials are designed to fill in the empty spaces. In most cases, a metal clasp will secure them in the mouth.
Dr. Dan can perform a thorough examination of your mouth to decide what type of restoration would work best for you.
Benefits of Dentures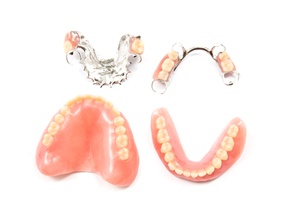 A Great Smile: It's been found that missing teeth can have a negative effect on your social life and your career. Dentures will give you a beautiful new set of pearly whites that you'll be happy to show off.
A Varied Diet: Not being able to chew properly severely limits what you can eat and leads to poor nutrition. With dentures, you'll be able to enjoy most foods again and keep your body happy and healthy.
Cost-Effective: Compared to other treatments, many patients find dentures to be more affordable.
Long-Lasting: By taking care of your false teeth, you make them last for up to a decade.
Who's a Good Candidate for Dentures?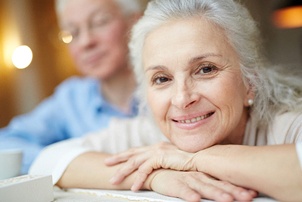 Dr. Dan usually recommends dentures for patients who have suffered from significant tooth loss; if only one or two teeth are missing, a single dental implant or a dental bridge might be more appropriate. When getting dentures, you'll need to have enough healthy gum tissue and jawbone remaining to support the false teeth. We'll take all the necessary factors into account to help you decide the best way to repair your smile!
Implant-Retained Dentures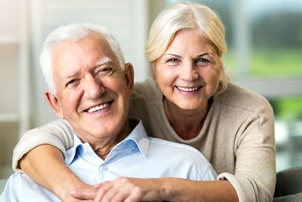 If the density of your jawbone allows it, dental implants can be used to support a denture. An implant is a metal post that's surgically placed beneath your gumline and effectively serves as the "root" for your new teeth. Full dentures can often be supported by four to eight implants.
False teeth secured by dental implants won't slip, and the chewing power they provide is almost equal to that of natural teeth. The implants will also help you maintain a more youthful appearance by preventing bone loss in your jaw and maintaining a healthy facial structure.