Meet Your Centerville Dentist
Dan Passidomo, DMD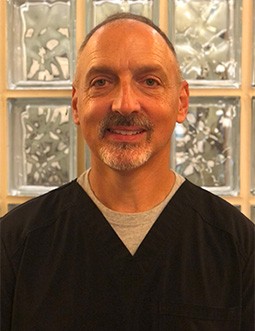 Dan Passidomo, DMD, received his doctorate from University of Kentucky College of Dentistry in 1993. A general practitioner with emphasis on crown and bridge and endodontics, Dr. Dan started practicing in Dayton, Ohio in August of 1996. In summer of 2006, Dr. Dan moved to practice in Centerville, Ohio and has continued to create healthy smiles for patients in Centerville and surrounding communities. Like his colleagues, he keeps abreast of new treatments and technologies through continuing education in occlusion, periodontics, restorative dentistry and cosmetic dentistry, endodontics, and infection control.
An active member of the community, he spends each February visiting local grade schools to teach kids the importance of good oral hygiene. He enjoys sharing his profession with teens at Waynesville High School and Lebanon High Schools. To book a no-charge dental presentation by Dr. Dan at your school, please call our Centerville dental office.
Dr. Dan is an active member of SouthBrook Christian Church and enjoys serving in a variety of capacities.
He is a member of the Centerville Optimist Club and also a member of the Lebanon Area Chamber of Commerce, where he served on its Board of Directors for eight years.
He is a member of the Dayton Dental Society and the Ohio Dental Society, American Dental Association, Academy of General Dentists, Academy of Cosmetic Dentists, and South Metro Chamber of Commerce.