Checkups & Cleanings – Centerville, OH
Maintaining Your Overall Wellbeing, Starting With a Healthy Smile
Dr. Daniel Passidomo takes pride in caring for his patients by providing them with the highest quality and most thorough preventive dental care. With routine checkups and cleanings, he's able to keep his patients' small oral health problems from becoming severe and harder to treat down the road. So, if it has been longer than six months since you've visited a dentist, don't hesitate to contact our office to schedule your appointment today! We value your health and comfort and look forward to cleaning up your smile so you feel confident showing it off.
What Happens During the Checkup?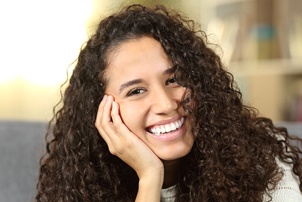 For the last part of your dental checkup, we'll conduct a quick oral cancer screening where we examine your neck, face, throat, and oral tissues for any abnormalities or signs of cancer. The earlier we diagnose this condition, the higher the chances that it can be successfully treated, which is why we do this each time you visit us. If we find any oral health problems, we'll form a treatment plan before moving onto the cleaning portion of your visit.
What Happens During the Cleaning?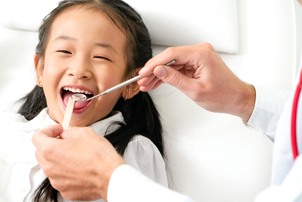 The final part of your visit will be your professional dental cleaning. We use gadgets that are specially made to fit in the small corners of your mouth that you can't get to with a regular toothbrush, such as a scaler, dental mirror, and polisher. This allows us to remove tartar and plaque buildup, preventing the formation of cavities down the road.
Using a scaler, we'll begin clearing any harmful substances from below your gumline. Once your teeth are free of plaque and tartar, we'll place a gritty substance called prophylaxis paste on our polisher and brush each of your teeth with it to break apart any surface stains. Lastly, we'll floss between each tooth to remove any lingering food particles and plaque.
Why Should You Visit Your Dentist For Routine Checkups & Cleanings?
Many people wonder why it's necessary for them to visit their dentist for professional checkups and cleanings when they brush and floss their teeth every day at home. Our office is equipped with the latest technology to diagnose problems early, before they have a chance to impact your overall health. Plus, our team is compassionate and caring, and truly strives to make a positive difference in each of our patients' lives. We want to make sure that our patients have the tools and knowledge they need to enjoy their natural smiles for their lifetime, which is why we're so thorough during each routine checkup and cleaning. Here are some reasons you won't want to put off visiting us every six months:
Control plaque and tartar accumulation to minimize the formation of oral health problems.
Diagnose and treat gum disease in its early stages, before the symptoms can't be reversed.
Keep bad oral habits like tobacco use and teeth grinding in check.
Find hidden issues with dental X-rays.
Detect oral cancer in its early stages.
Dr. Passidomo uses the latest techniques and technology so he can provide his patients with the high-quality dental care they deserve. If you have any questions about your oral health and would like to schedule an appointment, be sure to contact our office today!