Dental Implants – Centerville, OH
Enjoy a Strong, Healthy Smile Again
When you lose a tooth, you experience more than just an unsightly gap in your smile. Your remaining teeth can wander out of position, causing problems with your bite and jaw joint, and your jaw bone can atrophy, making your facial shape change and appear older. Out of all the replacement options, only one addresses all of these negative outcomes of tooth loss—dental implants.
This strong, beautiful alternative to bridges, partials, or full dentures will improve your smile and your lifestyle. They look, feel, and function like natural teeth because of a titanium anchor attached to the jawbone.
Benefits of Dental Implants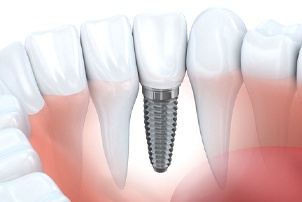 By imitating an entire natural tooth, from the root up, dental implants are a tooth replacement option that closely mimics nature. The result? The jaw bone remains stimulated, keeping it strong and healthy, which enhances your appearance, especially as you get older. Dental implant patients also enjoy restored tooth function, allowing for a healthy diet of hard-to-chew foods. Speech may also improve because you don't have to worry about your replacement teeth slipping or coming loose. Strong and secure, your new smile will boost your confidence and improve your quality of life.
On top of all the health benefits, dental implants are highly successful. In fact about 95 percent of dental implants are still successful even 10 years after they were originally placed. Plus, with the proper care, dental implants can last for more than 30 years!
Indications for Dental Implants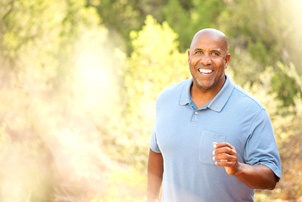 Regardless of how many teeth you've lost, there is an implant solution that can meet your needs. Dr. Passidomo can evaluate your mouth and help you create a treatment plan to bring your smile back to full strength and health.
Single Missing Tooth
To replace one missing tooth, a single dental crown is affixed to the dental implant without having to rely on the surrounding healthy teeth for support—unlike a dental bridge.
Multiple Missing Teeth
Three or more consecutive missing teeth can utilize two dental implants to secure a bridge, and an implant-retained partial denture can address teeth missing throughout an arch.
Missing All Teeth
Even if you've lost all your teeth, dental implants can help. Through four to six strategically placed implants, your full dentures can be firmly set in place and give you a fully functional smile once again.
Team-Based Dental Implant Treatment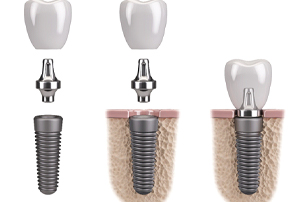 After a thorough evaluation, Dr. Passidomo can tell you whether you're a candidate for dental implants, which require adequate bone structure for placement. The first stage of the procedure involves seeing a specialist, such as Dr. Brian Kernan, Dr. Trent Tucker, Dr. Miremadi, and Dr. Jim Schirmer, for oral surgery in which a titanium post is implanted into the jawbone. Nature will take its course, allowing your bone tissue to fuse with the titanium post. This creates a solid foundation. We refer you to a specialist so that you can get the highest quality of care and have the best chances of success.
Once the implants are secured, you'll return to our office so that Dr. Passidomo can attach a handcrafted, permanent crown or other restoration to each post. The restorations will match your natural teeth and blend seamlessly with your smile.
Understanding the Cost of Dental Implants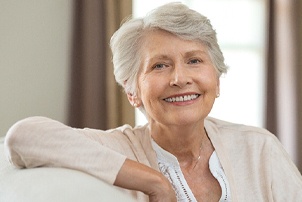 The cost of dental implant treatment can vary case by case. It depends on many factors, such as how many implants you need, what kind of restoration will be attached, and the location of the implants in your mouth. During a consultation with Dr. Passidomo, you can discuss your specific situation and go through the price of for your customized treatment.
Because of the process of replacing teeth with dental implants, the upfront cost of this option is higher than that of dental bridges or dentures. However, when you include the cost of having to frequently replace these other options over the years, dental implants can turn out to be the smartest financial decision in the long run.
Interested in learning more? Contact our team in Centerville for a consultation today!
Dental Implant FAQs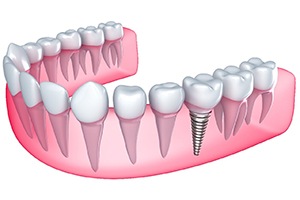 A dental implant in Centerville can permanently replace a missing tooth using a solution that closely looks and feels natural. As the only treatment to replicate the entire tooth structure, dental implants offer amazing advantages; however, before you're ready to commit to the treatment, it's normal to have a few concerns. We'll take the time to address them during your consultation. Here are the answers to a few of the most common questions we are asked about dental implants to help you understand the road ahead.
Am I too old for dental implants?
Age isn't necessarily a defining factor for your candidacy for dental implants. As long as a patient has finished growing, they can replace their missing teeth with dental implants if they meet the other criteria, like having good oral and general health.
Can I get dental implants if I have gum disease?
Despite being preventable, gum disease is still the leading cause of tooth loss. If you've lost teeth to the infection, you won't be a candidate for dental implants if it's still active. Instead, you'll need to undergo periodontal therapy to fight the infection to ensure you have a healthy foundation for your new smile
Will I need bone grafting?
Often, patients interested in dental implants will need bone grafting, but it isn't always necessary. A CT scan of your jaw is used to assess the density of your bone. If it reveals areas that are weakened, you'll need bone grafting before your placement surgery to ensure your jaw can support the posts long-term.
Can dental implants fail?
Dental implants are the most reliable solution to treat tooth loss because they provide predictable results. They have over a 95% success rate and are proven to last for decades with the right care. Although they are known for their durability, they can fail. The risk of implant failure is less than 5%. It's often caused by a preventable infection. You can help to ensure your new smile thrives by maintaining your oral hygiene at home and visiting your dentist at least twice a year for a cleaning and checkup. If you develop any concerning symptoms, like a feeling the implant is loose, pain, or tenderness, don't wait to contact your dentist.
Do dental implants hurt?
Your oral surgeon will use sedation or anesthesia during your placement surgery to keep you comfortable. You won't feel any pain; however, there will be some discomfort while you heal. It's best to use an over-the-counter pain reliever for the first few days following your placement surgery to manage your discomfort. After you've healed, you shouldn't have any pain.
Can I use my dental insurance?
Every policy is different, but many dental insurances will cover a portion of the cost of your treatment after paying your deductible. A member of our team will work on your behalf with the insurance carrier to file the necessary claim forms to reduce your out-of-pocket expense. We'll explain your payment options for any remaining balance to keep your new smile affordable.