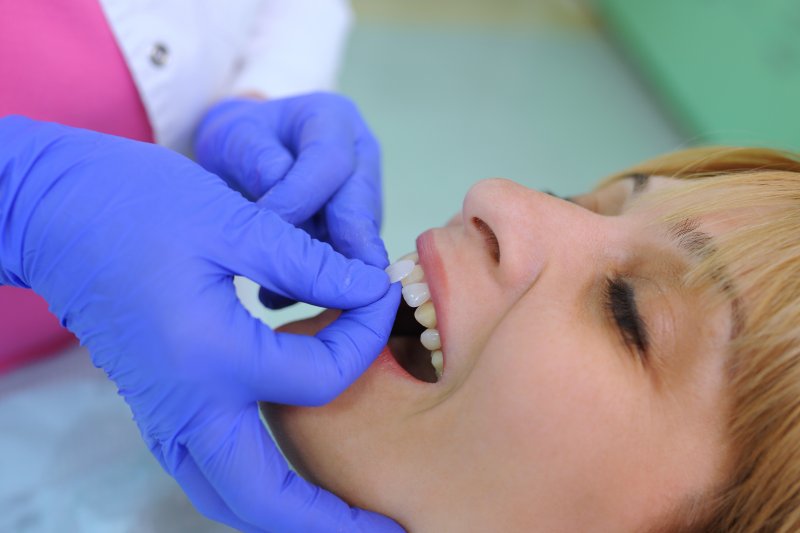 At this point, you may have heard of dental veneers. This cosmetic treatment can transform your smile from the ground up! That said, you may want to know more about the veneer process before you commit. After all, having more details will help you confirm if the porcelain shells are right for you. It's a good thing, then, that your local Centerville dentist can explain. Here is a summary of the five major steps in placing porcelain veneers.
The Consultation
When getting veneers, the first step is to consult your cosmetic dentist. Doing so will give them an idea of your desired results, smile goals, and more.
You'll also specify how you want the veneers to look during the consultation. From there, the dentist can discuss your wants with a technician who'll customize the final product(s).
The Trial Run
Once the consultation is over, your dentist will let you "preview" what veneers could do for your teeth. More specifically, they'll make trial versions that can be placed on your teeth. Such stand-ins can then help you see if treatment would benefit your smile.
Remember that you can't leave a dentist's office with temporary veneers. That said, you're free to take photos of them to review later.
Tooth Prep
When you and your dentist have agreed on a plan, you'll attend a "preparation visit." This appointment will prepare your teeth for the new veneers.
In general, this prep work involves various elements. These include tooth polishing and minor enamel removal. As such, it's crucial to go into this step with accurate expectations. Removed enamel won't grow back, so dentists want to ensure you're clear about treatment.
Veneer Fabrication
After your teeth are prepared, the dentist will take an impression of them. This completed mold will then be sent to a dental lab to make your veneers.
Since making the final veneers can take several weeks, you'll wear provisional ones in the meantime. Unlike the trial models, these are cemented onto your teeth and let you enjoy your daily activities.
Final Placement
When the porcelain veneers are ready, your dentist will call you back for the final placement. At this visit, they'll bond the prosthetics to your teeth.
To make the veneers fit securely on your pearly whites, they'll etch the former and the latter with a mild acidic solution. The result is that only a dental drill or laser could remove them.
The veneer process relies on the steps above for placement success. Therefore, talk to your local dentist about treatment options in the coming days!
About the Author
Dr. Daniel J. Passidomo is a dentist based in Centerville, OH, having earned his DMD from the University of Kentucky's College of Dentistry. He also keeps up with new dental knowledge through continuing education in occlusion, periodontics, and more. Given this background, his specialties are preventive, cosmetic, and restorative treatments, as well as emergency procedures. Dr. Passidomo currently practices at his self-titled clinic and is reachable on his website and by phone at (937)-886-9935.