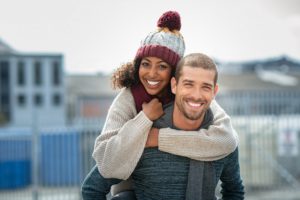 The winter season can be full of enjoyable moments, like sipping on a warm cup of hot chocolate while sitting near a cozy fire. However, once you must get out in the cold weather, your grin may suffer from some uncomfortable symptoms as you are out and about. Here are three of the most common oral issues that may affect you during the colder months and what you can do to keep your smile healthy.
#1. Dry Mouth
Humidity in the air tends to decrease during the winter, which can make your mouth feel dry. Other contributing factors can be indoor heating (especially wood heat) and viral cold and flu infections. This can cause your mouth to become dry, leading to oral health issues. When there is no saliva in your mouth to wash away bacteria, plaque and tartar collect, which increases the risk of tooth decay and cavities. The excess bacteria can also lead to gum disease and erosion of enamel. Keep your mouth hydrated with these tips:
Drink plenty of water.
Stimulate saliva production by chewing on sugar-free gum.
Use a humidifier in your home.
#2. Chapped Lips (Cheilitis)
In addition to making your mouth feel dry, low humidity can also suck the moisture out of your lips, causing them to become chapped. When your lips become too dry, they can crack, which can be quite painful. Once again, a humidifier and drinking plenty of fluids will help to alleviate chapped lips. Applying a high-quality lip balm is also a great way to add moisture as you go throughout your day. It will also add an extra barrier of protection, especially when braving the great outdoors.
#3. Tooth Sensitivity
You may have experienced the uncomfortable moment when you are enjoying some ice cream and your teeth have a sharp twinge of sensitivity due to the chilled treat. During the winter season, breathing in the chilly air can have the same effect! Teeth sensitivity to cold weather is common as your teeth contract and expand to temperature changes–especially when you are transitioning from outdoors to indoors. Using a scarf or face mask will not only keep you warm but protect your pearly whites!
Ways to Protect Your Smile
Here are some additional tips on how to help protect your mouth during the winter season:
If your teeth sensitivity last for 30 seconds or longer, schedule an appointment sooner rather than later, as it could indicate something like a cavity or infection.
Cut back on your caffeine intake to decrease chances of dehydration.
Breathe through your nose when you are outside to decrease chances of a dry mouth.
Consider switching to a desensitizing toothpaste.
While the winter months can cause some issues with your mouth, there are ways to protect it. By following these helpful tips, you can protect your smile from the cold so it will be healthy for the next season!
About the Author
Dr. Daniel J. Passidomo and his team keep the smiles of Centerville healthy and bright throughout every season of the year! He received his dental doctorate from the University of Kentucky College of Dentistry and is an active member of several dental associations, including the American Dental Association and the Academy of Cosmetic Dentists. With over 25 years of experience, he offers a full range of services. To schedule an appointment, contact him through his website or call (937) 886-9935.