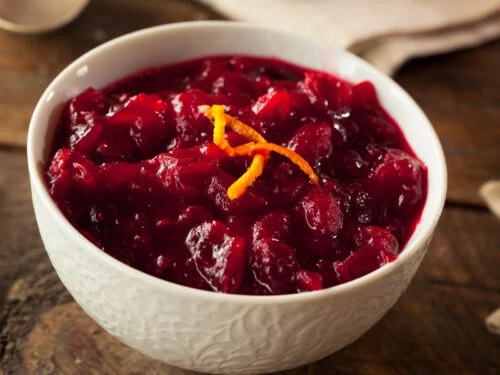 From turkey to pie to veggies galore, the holiday season is what we've all been waiting for! This time of year is a favorite of many for the food, fun, and family. With Thanksgiving quickly approaching, you may find yourself daydreaming about diving into your favorite seasonal treats that you've been waiting 365 days to eat. Unfortunately, some of your favorite foods might leave unsightly stains on your smile. Continue reading to learn about some of the Thanksgiving foods that can stain your teeth.
#1: Cranberry Sauce
This is a Thanksgiving staple that many people can't imagine the holiday without. Unfortunately, the red pigment of this tart treat leave stains on your teeth. Additionally, the acid in it can wear down your enamel. This may make you more likely to develop cavities or may allow the yellow dentin to show through.
#2: Pie
Though not all pie can stain your smile, highly pigmented ones like pumpkin and sweet potato just might. Berry pieces also have deeply colored juices that can discolor your pearly whites.
#3: Balsamic Vinegar
Salads are another common Thanksgiving food. If your dressing of choice is balsamic vinaigrette, the zesty flavor it brings to the dish isn't the only thing you'll be getting. It may also stain your smile and put a damper on the holiday.
#4: Wine, Tea, Coffee, and Cola
Unfortunately, there are also a ton of common holiday drinks that can leave stains on your beam. Coffee, tea, cola, and red wine are a few examples. Darkly colored juices, punches, or mixed alcoholic drinks will have a similar impact.
How to Fix Dental Staining
Fortunately, if your teeth do become stained from Thanksgiving foods, there are ways to fix it. A few examples include:
Teeth whitening – This treatment uses professional whitening agents to lift stains from your beam. At-home treatments feature custom trays that are to be worn for around 30 minutes per day for two weeks straight for the best results.
Porcelain veneers – If teeth whitening isn't an option, this treatment is a good way to quickly improve the look of your smile. Thin shells made from porcelain will be color-matched to your surrounding teeth and attached to the stained ones to give it a brighter, more beautiful look.
Cosmetic bonding – This treatment fixes the same issues as porcelain veneers but is not nearly as durable. It's much cheaper than getting veneers and may be a better option for those looking to improve their smiles on a budget.
Thanksgiving foods are one of the parts of the season that people look forward to most, but don't let the excitement cause you to make bad choices for your beam. With the above information, you'll know what to avoid and will still have plenty of tasty treats to put on your plate!
About the Practice
Dr. Dan Passidomo began practicing in the field of dental health in 1996. He now leads a highly skilled team of professionals based in Centerville who enjoy using their expertise to help patients keep their smiles healthy and beautiful. With the holidays nearing, he can give you information on what Thanksgiving foods to avoid and which ones are great for your beam. If you want to make an appointment or to learn more about his services, visit his website or call his office at (937) 886-9935.