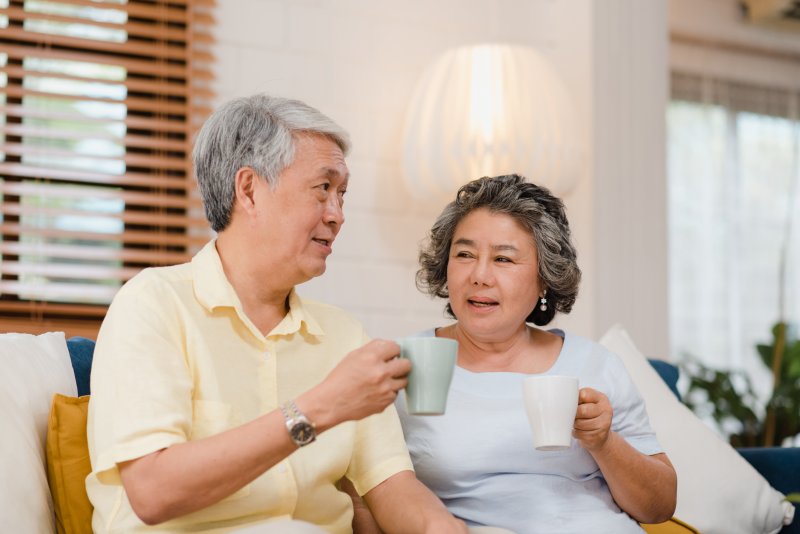 So, you just got dentures to replace several or all your teeth. These restorations have come a long way from what they used to be and are an excellent way to fill in your smile and regain some of your bite power. As useful as dentures are, it may take some time for you to get used to speaking with them. To make it easier for you to adjust, here's what you need to know about talking with dentures.
How Dentures Affect Speech
Speaking with dentures may feel a bit awkward and uncomfortable when you initially start to wear them. You may have slurred speech, a lisp, or excess salivation at first. You might find it difficult to pronounce the letters "s" and "f", and they may come out more like "th" or "sh" sounds. Words that contain "f," "th," and "v" may also give you some trouble. Additionally, you might experience a whistling sound while attempting to pronounce the letter "s." Dentures can also cause teeth to click or start shifting when you speak.
Though these challenges may be frustrating, they are incredibly common and can be overcome with practice and time. Dentures may even improve your speech by eliminating lisps or pronunciation issues caused by missing teeth. However, if your restorations were made incorrectly, your tongue may not be able to position itself correctly to make certain sounds. In this case, you should speak with your dentures about having them fixed or getting a new pair.
How to Overcome Speech Problems with Dentures
On average, it takes 15–30 days to get used to talking with dentures. By this time, sore spots and excess salivation tend to decrease. There are several ways you can make it easier to speak with your new restorations, including:
Speak slower – Clicking is caused by bringing your teeth together much harder than intended as you speak, so this can be solved by practicing speaking slower so you know how much space and force you have between your dentures.
Read aloud at different volumes – This will help you get used to speaking with your dentures so you know the right way to do it when you communicate with others.
Use denture adhesive – Once excess saliva production ceases, you can use denture adhesive to make your restorations fit better and to prevent them from slipping while you speak.
Bite and swallow – Do this before you start talking with dentures to minimize speech issues. If the problem persists or gets worse, you may need to have them adjusted by your dentist.
Now that you know what to expect from your new restorations, it should be easier to get used to talking with dentures. Soon, you'll be able to speak clearly while showing off a gorgeous new grin!
About the Practice
Missing teeth can make it harder to enjoy your life to the fullest, but Dr. Daniel Passidomo and his talented Centerville team offer high-quality, sturdy dentures that can help. Though talking with dentures can take some time to adjust to, they can give you tips and tricks on how to effectively communicate with your new restorations. If you're interested in setting up an appointment or want more information about dentures, visit Dr. Daniel Passidomo's website or call his office at (937) 886-9935.