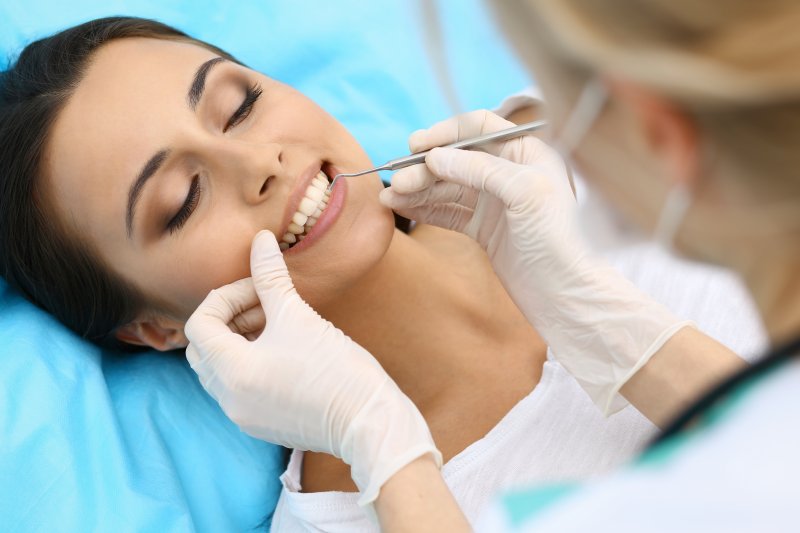 There are a number of procedures your cosmetic dentist can use to help you enjoy a beautiful, confident smile – like teeth whitening, porcelain veneers, and Invisalign. But before you can benefit from these treatments, you will need to have healthy gums. That may mean you need to undergo periodontal therapy first. Keep reading to learn why it's important to treat periodontal disease before undergoing a cosmetic dental procedure. 
Why Should Gum Disease Be Treated?
Periodontal (or just "gum") disease is an infection that can wreak havoc on your oral health, as it causes loss of gum and bone tissue and can also result in missing teeth. If an infection is present, you will want to make sure it is under control before embarking on any cosmetic treatments. Otherwise, that uncontrolled gum disease is likely to cause you to lose the teeth that you have spent time and money perfecting.
Your dentist will recommend an appropriate course of treatment based on the severity of your gum disease. For many patients, a deep cleaning can help return the gums back to their good health.
What Are the Signs of Periodontal Disease?
You will need to visit your dentist for a gum disease diagnosis, but being aware of the symptoms of this condition can help you seek treatment sooner.
You may have gum disease if you experience the following:
Red, swollen, and/or tender gums
Bleeding gums
Gum recession, or the appearance of gums pulling away from the teeth
Bad breath
Tooth sensitivity
Tooth loss
When Should Treatment Happen?
If you are planning to have a cosmetic or any other elective procedure done, you will want to allow several months for periodontal therapy to be completed first. You may need more than one cleaning along with practicing improved dental hygiene at home to completely clear the infection. If severe gum disease has taken hold, you may want to consider gum grafting to repair any recession.
Once your dentist has confirmed that your gums are free from infection, you can begin your cosmetic treatment plan! You will feel good knowing your smile is as healthy as it is beautiful.
Meet the Dentist
Dr. Dan Passidomo, DMD, received his doctorate from the University of Kentucky College of Dentistry and has been offering excellent comprehensive dental care for patients of all ages ever since. He continues to stay up-to-date on the latest approaches in dentistry through continuing education opportunities, including those related to cosmetic dentistry and gum disease therapy. To learn more about Dr. Dan or to schedule an appointment, call the office at (937) 886-9935.