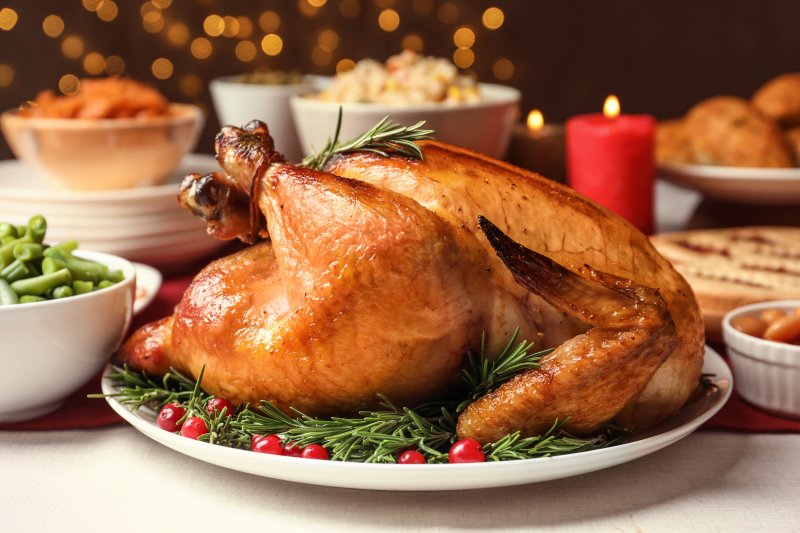 Thanksgiving dinner is just around the corner. While it may be stressful to coordinate travel plans and what everyone is going to bring, you are at least excited for the delicious meal that you will enjoy with your family after a long day of cooking. However, not all common Thanksgiving dishes and practices are beneficial for your smile. Continue reading for some helpful tips to make sure your Thanksgiving dinner is tooth-healthy for you and your family!
Limit The Sugar
In addition to the savory dishes, there are plenty that are packed with sugar. While they're delicious, they can attack your protective enamel and leave you with extra plaque or even tooth decay. Go easy on the marshmallow yams, cranberry sauce, and pie. After you enjoy them, be sure to rinse out your mouth afterwards to reduce their harmful effects.
Cut Back on Wine
It isn't uncommon for people to enjoy a glass of wine with their Thanksgiving dinner, but acidic beverages are harmful for your oral health. This is because acid in the mouth breaks down the enamel on your teeth. Alcohol can also limit the saliva that helps to naturally keep your mouth clean. Try opting for a beverage that isn't acidic or sugary, like ice water and milk. If you want an adult beverage, gin and tonic or light beer is a better option.
Be Careful with Hard Foods
If the start of your dinner includes appetizers, like chips, nuts, or popcorn, you should be extra careful when eating them. Sharp pieces of food and easily get lodged between the teeth and in the gums. Keeping some floss on hand can help with this too.
Limit Sticky Treats
Marshmallows, pecans, and caramel are common ingredients in Thanksgiving desserts. Because they are so sticky, they can adhere to the teeth and remain there for a long period of time. This means additional plaque and dental issues.
No Continuous Snacking
It is easy to pick at snacks throughout the day as you're waiting for dinnertime to roll around. But if you don't give your smile a break, you are leaving your teeth vulnerable to cavity-causing bacteria. Stick to designated eating times instead of continuously munching. Give your teeth a brush after each meal.
Don't forget about your smile this Thanksgiving. By being mindful and using the tips above, you can begin the holiday season with healthy pearly whites!
About the Author
Dr. Dan Passidomo is an experienced dentist who has been practicing for over two decades! He earned his Doctor of Dental Medicine degree from the University of Kentucky College of Dentistry and is committed to continuing education to keep his knowledge and skills sharp. Currently, he is a proud member of the American Dental Association, Academy of General Dentistry, Academy of Cosmetic Dentistry, and several other professional organizations. For more information or to schedule an appointment at his office in Centerville, visit his website or call (937) 886-9935.