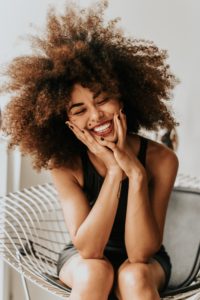 Nothing is better than instant gratification; however, few things in life happen in the blink of an eye, like a straight smile. Advancements in orthodontics have shortened the timeline for braces, but they still require you to commit to them for several months. If you only have a few minor alignment issues, you know braces can fix them, but are your minor aesthetic concerns worth the long-term commitment? Besides braces, there's another option. You can enjoy a straight, beautiful smile in as few as 2 weeks with instant orthodontics.
What is Instant Orthodontics?
Despite the name, it doesn't involve orthodontics. Traditional braces and clear aligners apply pressure to your teeth to gradually reposition them. They can only be moved in small increments, which is why the treatment takes so long. Instant orthodontics doesn't move your teeth. Instead, veneers create the illusion that your smile is straight.
A veneer is a custom-crafted shell that's bonded to the front surface of a tooth. It's made of porcelain to mimic your enamel to create natural-looking results. Overall, it will improve the color, size, and shape of your teeth. Although veneers are typically used for discoloration or chips, they can also cover gaps between teeth and other minimal alignment concerns. Their versatility will give your entire smile a makeover in less than one month.
How Long Do Veneers Take?
Modern veneers are thinner than ever, so the procedure is less invasive. On average, it only takes a few weeks to complete the process. You'll need a consultation with your cosmetic dentist to ensure veneers will provide the results you want. After creating a personalized strategy to revamp your smile, you'll be scheduled for the first phase of your treatment.
Your dentist will clean your teeth and shave off a small amount of enamel, which is necessary to ensure the veneers sit flush. Since veneers are made of porcelain, only about 0.5.mm of enamel is removed to protect the integrity of your tooth.
Once your teeth have been prepared, your dentist will take an impression of your mouth, which is used to create your veneers. Your teeth will be vulnerable while waiting for the dental lab to make your restorations, which is why your dentist will place temporary veneers in the meantime.
It can take the dental lab a couple of weeks to craft your veneers to ensure precise, flawless results. Once they are ready, you'll return to your dentist to have them bonded to your teeth. You'll walk out of your appointment with much more than straight teeth. You'll have a stunning, bright, and beautiful smile that can last for a decade or longer.
About Dr. Dan Passidomo
Dr. Passidomo earned his dental degree from the University of Kentucky College of Dentistry before continuing his training in prosthodontics and endodontics. As a lifelong learner, he has completed extensive post-graduate education, including occlusion, periodontics, cosmetic dentistry, and infection control. If you're ready to invest in the smile of your dreams, choose a dentist you can trust. Contact our office today to schedule your consultation for veneers.