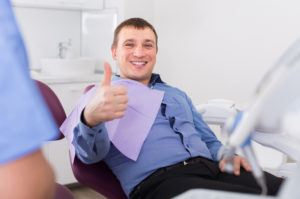 While root canals have one of the most notorious reputations in dentistry, patients are pleased to find that these rumors are largely overstated. With the help of modern numbing techniques and pain medications, most people report that getting a root canal is no worse than getting a large filling! However, it is still a procedure that requires rest afterwards. Here's what you can expect while you heal from a root canal in Centerville as well as what you should look out for.
Managing Discomfort & Other Symptoms
It's no secret: you will feel some level of soreness after your root canal once the numbing medication wears off. This is normal! Thankfully, there are several ways you can manage post-op discomfort until it naturally fades on its own, like:
Take the pain medication prescribed by your dentist
Follow your dentist's instructions for taking over-the-counter-pain relievers
Use an ice pack or cold compress to numb the area and bring down swelling
Enjoy cold and soft foods and drinks to ease inflammation
Stay away from hard or crunchy foods, which could damage and irritate the area
Resting and Recovering After a Root Canal
After your root canal, you should plan on taking the rest of the day off. In fact, you should take it easy for the next several days. To help your recovery go as quickly and comfortably as possible, take some time to relax and refrain from physically demanding activities. It's especially important to be careful when eating. Do your best not to chew or bite down with the repaired tooth. You should also practice excellent oral hygiene, being sure to brush and floss carefully every day.
Signs That You Need to Call Your Dentist
Thanks to modern dental technology and techniques, root canals are overwhelmingly successful. However, it's essential that you attend your follow-up visits with your dentist to ensure that everything is going according to plan. You should call your dentist right away if you begin to notice any of the following:
Swelling in your mouth hasn't gone down after several days or has gotten worse.
Discomfort or soreness doesn't feel any better after a few days or gets worse.
Pain or swelling went away, but comes back several days later.
These could be signs that something isn't healing as well as it should. Your dentist will be able to determine what's causing your symptoms and what needs to be done to get your oral health back on track. If you have any questions or concerns while you're recovering from your root canal, don't be shy about calling them to make sure you get the care you need!
About the Practice
Dr. Dan Passidomo, DMD has been caring for the smiles of Ohio since 1996. He received his doctorate from the University of Kentucky College of Dentistry with an emphasis on endodontics and restorations. He's performed countless successful root canals and, like with all of his treatments, strives to prioritize his patients' health and comfort. If you have more questions about healing from root canals, he can be reached via his website or at (937) 886-9935.