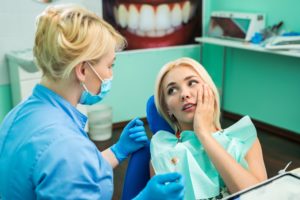 Does your jaw click or pop when you open and close your mouth? Maybe you suffer from reoccurring headaches or facial pain? Believe it or not, you might be experiencing a disorder of your temporomandibular joint (TMJ), which connects your jaw to your skull on either side of your face. To alleviate your discomfort, you might think you need to visit your physician to get the care you need; however, it's best to see your dentist for TMJ therapy. Your dentist is specially trained in TMJ disorders to provide the effective solution you need.
What is a TMJ Disorder?
A TMJ disorder is classified as a condition that causes limited mobility and discomfort of the temporomandibular joint. It is estimated over 10 million Americans live with the condition, which can cause a clicking, popping, or grating sound when opening and closing your mouth. In some cases, your jaw can even lock into an opened or closed position. Unfortunately, the complications don't end there. It's not uncommon to experience facial pain, headaches, earaches, or neck pain.
Although TMJ disorders are a prevalent problem, there isn't always an obvious cause, but they are often attributed with:
Past injury to the jaw
Grinding or clenching the teeth
Arthritis
Poor tooth or jaw alignment
No matter the cause, your dentist for TMJ pain will create a personalized treatment plan to improve your jaw function and stop your pain.
How Can a Dentist Help Me?
A dentist does more than just promote healthy teeth and gums. They are trained to look at your mouth as a whole, including your temporomandibular joint. Your dentist can correctly diagnose the condition using a visual examination and diagnostic imaging. After finding the cause of your discomfort, they'll design a strategy catering to your needs, which can include:
Oral Appliance: A custom-fit device is made from an impression of your mouth. It's crafted to move your jaw into a more comfortable resting position. Over time, your jaw will be retrained to create a harmonious balance between your upper and lower teeth.
Orthodontics: Orthodontic treatment can move your teeth into their proper positions to fix your bite and alignment. This can provide a permanent solution to treat the disorder.
Nightguard: A nightguard provides a cushion between the top and bottom teeth to decrease the pressure of grinding and clenching.
Home Remedies: Stress-relieving exercises, anti-inflammatories, cold compresses, and jaw muscle exercises can decrease symptoms of TMJ disorders.
Stop Your Jaw Pain Today
You don't have to live with the pain of a jaw disorder. Your TMJ dentist can enhance your oral functions and overall quality of life using an approach tailored to your needs.
About Dr. Dan Passidomo
Dr. Passidomo earned his dental degree from the University of Kentucky College of Dentistry and has completed advanced training in occlusion, restorative dentistry, and other specialties. As a TMJ dentist in Centerville, he embraces the latest solutions to treat disorders of the jaw. Contact our office today to schedule your consultation for TMJ therapy.