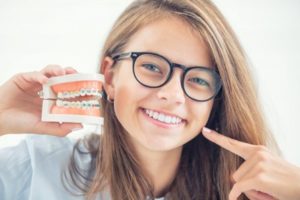 No matter how long you've worn them, the day you finally get your braces removed is pretty exciting! You now have a straight smile and no longer have to worry about breaking brackets. Unfortunately, your teeth may have spots of slight discoloration. This is why so many individuals consider getting teeth whitening after wearing braces. Read on to find out the best way to go about whitening your teeth after orthodontic treatment.
How Long Should You Wait to Whiten Your Teeth?
Once your dentist removes your braces, it is very common for your teeth will feel a bit sensitive and weak. For this very reason, it is a good idea to wait at least six months before attempting to whiten your teeth. While it may seem like forever, this waiting period will give your teeth time to regain their strength and give you time to adjust to life without braces.
What Are Your Teeth Whitening Options?
There are at least three ways you can whiten your teeth: over-the-counter (OTC) whitening products, OTC teeth whitening kits and professional at-home whitening kits. The first option typically includes whitening strips, whitening toothpaste or mouth rinse, whitening pens. OTC whitening kits include dental trays and bleaching agents that can be purchased from grocery or drug stores. Professional at-home kits are only available for purchase from a dentist and use custom-made application trays and professional-grade whitening agents.
Which is the Best Option?
Over-the-counter whitening products like dental strips, mouth rinse or toothpaste can work, but they often require frequent reapplication and don't offer a guaranteed timeframe for results. Dental whitening kits that you might find in your local grocery stores have a low dose of active whitening agents, which are not very effective at removing troublesome stains or discoloration. The application method with these OTC bleaching kits allows for saliva to neutralize the whitener, making them even more ineffective. This means that just like the other OTC products, there is not a guaranteed timeframe for whitening results. A kit you purchase from your dentist will include custom-made application trays for even, effective application as well as professional doses of whitening products, providing legitimate results that leave your teeth up to 10 shades whiter within 10 to 14 days of use.
It is very common to notice discoloration or staining on your teeth after wearing traditional braces, so getting your teeth whitened is a natural follow-up treatment. If you're ready to brighten your smile, your cosmetic dentist in Centerville can help!
About the Author
Dr. Daniel Passidomo is committed to providing every patient with comprehensive dental care in a comfortable atmosphere. He received his doctorate from the University of Kentucky College of Dentistry. Dr. Passidomo has been transforming smiles in Centerville since 2006. While he is a general practitioner with an emphasis on crown and bridge and endodontics, Dr. Passidomo also offers cosmetic dentistry treatments, restorative treatments and more. If you're interested in brightening your smile with teeth whitening, visit the website or contact the office at (937) 866-9935 to schedule your appointment today.