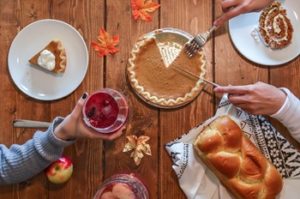 You probably don't think about your teeth very often, unless it's time to visit your dentist in Centerville or you experience a problem, like a toothache. Although they are often the last thing on your mind, your teeth are essential to your overall health and quality of life. Whether they are natural or prosthetic, here are 5 reasons to be thankful for your teeth this Thanksgiving.
1. Communicating Clearly
Your lips and tongue work together with your teeth to make certain sounds to create words. Your teeth are needed to restrict airflow to make the noises necessary for different consonants and vowels. Without all your teeth, it can be difficult to pronounce specific sounds, which may make your words sound slurred. As you catch up with friends and loved ones during the holiday season, appreciate your ability to communicate clearly thanks to your teeth.
2. Maintain a Strong Jawbone
Every tooth is vital to a strong jawbone. Losing even a single tooth will cause your bone to reabsorb because it isn't being stimulated by the root. If it isn't replaced, your remaining teeth won't have the sturdy foundation they need, which can cause them to fall out. In addition, your facial tissues won't have support, leading to premature wrinkles and sagging skin. A complete smile allows you to maintain your jawbone's density for excellent oral health and a youthful appearance.
3. Saliva Production
Drooling while you're speaking can be embarrassing. Thankfully, along with your lips, your teeth act as a barrier to hold your saliva in your mouth to prevent it from leaking out. In addition, they help to ensure adequate saliva production, which is necessary for a healthy smile and proper digestion, so your gastrointestinal track can do its job as you enjoy your favorite meals and snacks this Thanksgiving.
4. Smiling
Your teeth are invaluable to a beautiful, confident smile. If you're missing even a tooth or two, it's easy to feel insecure about your appearance. Not to mention, other people may have a negative impression upon meeting you for the first time. Your teeth will ensure your smile says the right thing about you. If you aren't pleased with how they look, ask your cosmetic dentist about transforming them using the latest elective procedures.
5. Reach Optimal Wellness
Did you know your oral and general health are entwined? Unhealthy or missing teeth can lead to certain medical issues, such as nutritional deficiencies. Your teeth promote the proper oral functions necessary for a healthy mouth and body.
Enjoy a Complete Smile
Your teeth provide endless benefits. Ensure they serve you for a lifetime by committing to your oral hygiene at home and visiting your dentist at least twice a year for a cleaning and checkup.
About Dr. Dan Passidomo
Dr. Passidomo earned his doctorate from the University of Kentucky College of Dentistry. He specializes in endodontics and implant dentistry. He can treat even the most complex oral health concerns, like extensive decay, infection, and tooth loss. Contact our office today to schedule an appointment.