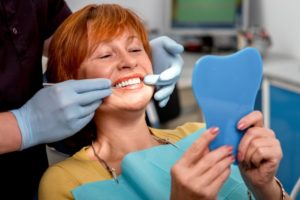 Dental implants in Centerville are becoming more and more popular due to their many benefits. Not only do they act and look like natural teeth, but they prevent bone loss and can last a lifetime when cared for properly. However, there seems to still be many myths and misconceptions out there about this modern dental restoration. Continue reading to learn some surprising facts about dental implants that you may not already know.
Dental Implants Are Resistant to Tooth Decay
One difference between dental implants and your natural teeth is that implants are resistant to decay and cavities because they are made from titanium and porcelain. However, just because your replacement tooth cannot get cavities doesn't mean that your surrounding teeth are safe. It's still important to be diligent about brushing twice and flossing once daily to prevent an infection in the surrounding area. This could cause a dental implant to fail over time.
Tooth Implants Have a High Success Rate
With modern dental technology that advances more each year, dental implants have grown to have a 95% success rate. Since they maintain the integrity of the jawbone, they won't become loose or ill-fitting overtime like dentures. This is what helps them to last so long.
Implants Restore 70% or More of Your Chewing Power
Traditional tooth replacement options, like dentures, only restore approximately 30% chewing power. Even though this is still lifechanging for people who have been missing teeth, it doesn't compare to the 70% or more chewing power restored by dental implants. This means you can eat pretty much any of your favorite foods again without having to worry.
You Need to Be Aware of Your Diet After Getting Dental Implants
Even though you have a wide variety of options after the fusion process takes place between the implant and your jawbone, you will have to be extra careful until then. While your restored smile is still healing, it's important to avoid foods that are especially hard and crunchy. Bad habits like nail biting and ice chewing could also interfere with the healing process and disturb your new implant.
Tooth Implants Restore Confidence
Many people become embarrassed and lose their confidence when they are missing teeth. Chewing and speaking clearly is more difficult and smiling for photos isn't something to look forward to. Dental implants change this by giving patients their smile back. It's unlikely that anyone would even know that you have an implant unless you tell them!
Dental Implants Can Be Relatively Inexpensive
Tooth implants are an investment in your oral health and overall wellbeing. By replacing your missing teeth now, you can prevent issues in the future that will add up to be more time, more money, and more discomfort.
Over the years, dental implants have become a preferred tooth replacement option by both dentists and patients alike. Due to all of their benefits, it's no wonder they're so popular. By blocking out misconceptions and becoming knowledgeable about the treatment, you will be able to make the best possible decision for your unique smile.
About the Author
Dr. Dan Passidomo is a well experienced dentist who has been practicing for more than two decades. He earned his doctorate from the University of Kentucky College of Dentistry and is committed to keeping up with new treatment and technologies. Dr. Passidomo offers dental implants as a tooth replacement option. For more information on dental implants or to schedule a consultation, visit his website or call (937) 886-9935.