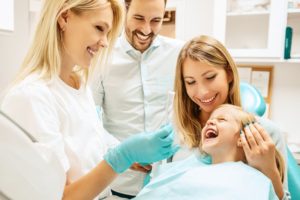 Between carpools, after-school activities, grocery shopping, and everything else that is crammed into your daily schedule, stress is no stranger to your everyday life. Throw in multiple trips to the dentist for your cleaning, your spouse's root canal, and your child's braces and you aren't far away from the pressure consuming you entirely. Fortunately, there is a solution: a family dentist in Centerville. Below are four benefits of using a family dentist for all your oral care needs:
It Makes Dental Care Simpler
The more complicated something is, the more likely it is you won't do it at all. Fortunately, visiting a family dentist can take the stress out of bi-yearly visits for your entire family. In fact, using a family dentist can simplify your appointments by:
Avoiding the hassle of tracking down dental records from multiple dentists.
Providing your children with a familiar environment that takes the fear out of going to the dentist's office.
Using one convenient location for each member of the family.
Offering appointments based around your family's schedule (i.e., late nights, weekends, etc.).
Family Dentists Are Versatile
One tremendous benefit of using a family dentist is their versatility. Their extensive experience in everything from pediatric to geriatric dentistry allows them to address prevention tactics and dental concerns in all stages of life. This bypasses the need for each member of your family to have their own specialist.
Big Picture Perspective of Your Family's Oral Care
If each member of your family is seeing a different dentist, then it isn't likely that overarching problems or issues will be addressed. With a family dentist, each member of your household can benefit from a big-picture perspective that incorporates prevention tactics and tackles reoccurring issues (like tooth decay and cavities).
It's Easier to Build a Personal Relationship
Did you know that roughly 48% of Americans experience fear around visiting the dentist? The best way to prevent this anxiety from developing is by building a personal relationship with a dentist that you know and trust. However, that is difficult to do when each member of the family visits a different dentist or moves from office to office.
Your day is busy enough without the added pressure of driving all over town for each family member's dentist appointment. By using a family dentist, everyone in your household can get the comprehensive care they need with one trustworthy, familiar, trained professional!
About the Author
After earning his doctorate from the University of Kentucky College of Dentistry in 1993, Dr. Dan Passidomo practiced dentistry in Dayton before moving to Centerville, Ohio. Today, he is an active member of prestigious organizations, like the American Dental Association, and prioritizes continuing education on restorative dentistry, endodontics, and infection control (to name a few!). If you are looking for a dentist you can trust with each member of your family, visit his website or give him a call at 937-886-9935.