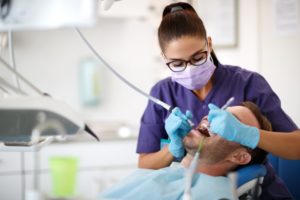 When you envision your summer, you probably think of relaxing with friends before you think of scheduling an appointment at the dentist. While it can be tempting to postpone your bi-yearly checkup in place of warm-weather activities, it is crucial to plan your visit before fall is around the corner. Your dentist in Centerville shares four reasons you should get your dental checkup early this summer.
Post-Quarantine TLC
For many, the stay-at-home orders led to lots of snacking and indulging with no visits to the dentist in sight. After all, virtually all of the March, April, and May appointments were postponed indefinitely in light of the pandemic. Therefore, a significant number of patients haven't received a professional examination and cleaning in well over six months, which is the recommended amount of time by the American Dental Association. Instead of pushing off the visit, make sure your teeth are in pristine condition with some post-quarantine TLC from your dentist.
Summer Brings a More Flexible Schedule
Although "predictable" isn't the word most people would use to describe 2020 so far, typically summer does mean a more flexible schedule for you and your family. Despite guidelines and regulations changing monthly (if not weekly!), it is best to schedule your checkup now since it's difficult to know what the coming months will bring. To avoid the stress of cramming in all of your appointments before your vacation or back-to-school season, get your checkups and cleanings early this summer.
Get Both Your Visits in Before December
Reputable sources, like the American Dental Association, recommend that patients undergo a professional exam and cleaning twice a year. However, if the recent pandemic interfered with your usual routine, then you may end up accidentally skipping one of those visits. To ensure that your teeth get the proper care they need to stay healthy, schedule your first visit of 2020 in early summer. That way you can squeeze in your second appointment in December before the year is up!
Practice Good Oral Hygiene Habits
When the stay-at-home orders hit, our usual routines hung on for a few weeks before being discarded entirely. While saying goodbye to the chronic stress of everyday life was a breath of fresh air to your health, the lack of a consistent oral care routine wasn't. As the transition out of quarantine unfolds, there is no better time than the present to implement a proper dental hygiene routine. Start by:
Brushing your teeth for two minutes twice a day.
Flossing daily.
Rinsing with mouthwash frequently to kill germs and bacteria that live in your mouth.
Although this summer looks different than usual, it is still crucial to prioritize your oral health. To start summer off on the right foot, schedule an appointment for a dental examination and professional cleaning!
About the Author
With his doctorate from the University of Kentucky College of Dentistry under his belt, Dr. Dan Passidomo has spent the last two decades using the latest treatments and technologies to create beautiful smiles. He is currently a member of the American Dental Association and spends each February teaching local grade school kids the importance of oral hygiene. If you are overdue for your bi-yearly visit, don't hesitate to contact him through his website or by phone at 937-886-9935.