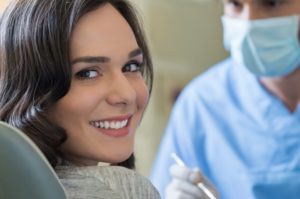 If you've been paying attention to the news regarding COVID-19, you may have learned that dental practices are largely closing their offices with the exception of treating dental emergencies. Medical professionals like dentists and their team members understand how important it is to do their part to reduce the spread of COVID-19. In the event you do need to handle a dental emergency, keep in mind that dental office safety always has been at the top of their list of priorities. Below, you'll learn exactly what they do and how they protect their oral and overall health.
Personal Protective Equipment
Dentists must wear many types of protective equipment every time they see a patient. They must also replace their equipment every time they see a new patient in order to not only protect everyone that comes to visit them, but their team members as well. This protective gear includes gloves, facial masks, gowns, and in many cases,  facial shields. You'll also find all of the equipment within the office covered with plastic material, which can be easily cleaned or replaced throughout the day. For example, you'll find coverings on keyboards, monitors and other pieces of technology that cannot be easily cleaned.
Handwashing and Disinfection Practices
Despite wearing protective gear, dentists and their team members always practice diligent hand-washing. While this was already commonplace pre-COVID-19, you'll find that they are even more dedicated to washing their hands throughout the day as well as keeping alcohol-based rubs nearby for easier use. These practices are just as important for front desk staff as it is for dentists, hygienists, and assistants. You'll also find administrative workers taking the extra time to disinfect commonly touched surfaces throughout the day rather than at the end of the day. Teams also perform deep cleanings of the office in the evening after the last appointment.
Sterilization and Disposal of Dental Instruments
Dental offices have dedicated assistants performing sterilization practices of all reusable dental instruments, including scalpels, dental mirrors, forceps, scalers, and other implements commonly used throughout the day. They also make sure to properly dispose of instruments that cannot be used again, making sure they are fully sealed away from the team and patients alike.
Removal of Waiting Rooms
While the previously mentioned protocols have been practiced well before the pandemic appeared, many dental offices are now going so far as to remove waiting rooms entirely as part of social distancing efforts. This means patients will need to wait in their cars before coming into the office and dentists are limiting the number of people that can be in the office at a time. They are also performing pre-screenings of patients, which includes asking them if they have any symptoms related to COVID-19 and performing contactless temperature checks.
While taking extra time to prevent disease transmission during a pandemic is hard work, it is absolutely necessary. It's also why you shouldn't feel afraid if you need to have a dental emergency treated.
About the Author
Dr. Dan Passidomo has been practicing for over 20 years and cares very deeply about the oral health and safety of his patients. He and his team members are doing everything they can to make patients feel comfortable and prevent any and all disease transmission during dental visits. If you are experiencing a dental emergency and need care, don't be afraid to contact him through his website for help!