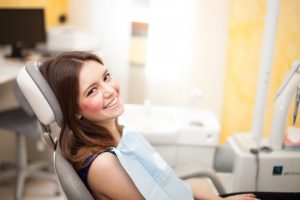 If you have dental insurance, there's no better time than now to see the dentist for a treatment. An overwhelming majority of people do not meet their annual maximum, so it's very likely that you'll end up leaving money on the table if you don't schedule treatment soon. But you don't have to go at it alone; a dentist in Centerville can help you get started building your treatment plan.
Why is Now the Best Time?
When you start to learn how many people miss out on unused benefits, it can be quite startling. According to the National Association of Dental Plans, only 2.8 percent of PPO plan participants met or exceeded their annual maximum. Considering the annual maximum typically averages around $1,250, that's a lot of money that could be utilized.
Dental insurance is largely considered a "use it or lose it" situation, meaning any benefits you don't use now will not be carried over into the next year. By the time January 1st rolls around, your benefits will have reset and any dollars leftover in your Flexible Spending Account (FSA) will either not be useable or only available at a discounted rate. Either way, you're missing out on benefits and savings you paid into.
How to Get Started Maximizing
To start, you'll want to get in touch with either your employer's HR manager (if you get insurance from your work) or your insurance company directly. These people can help you understand the nuances of your dental plan and answer important questions you may have. For example, they can confirm your annual maximum amount, your remaining benefits as part of your plan, and how much coverage insurance will provide for specific treatments.
If you have an HSA or FSA, it's important that you understand their differences, even if they are pretty similar. Both offer accounts for saving funds for specific medical expenses, but FSAs allows for pretax dollars to be saved away. Funds in these accounts are eligible to use for copays, deductibles, qualifying prescriptions and certain medical equipment. However, only those with high deductible plans are eligible for HSAs, while FSAs carry no eligibility requirements. Make sure you don't let funds in your dental savings account go to waste.
Treatments to Consider
Once you know the best way to cover dental expenses, you can start scheduling treatments. If you've only visited the dentist once this year, chances are your insurance allows one more routine visit that's covered anywhere between 80 and 100 percent. Preventive treatments like cleanings, exams, X-rays and fluoride treatments are usually covered at this rate because it shows the insurance company you care about maintaining long-term oral health.
Don't miss out if you have dental benefits to use. Schedule an appointment today to ask any questions you may have!
About the Author
Dr. Dan Passidomo earned his DMD degree from the University of Kentucky College of Dentistry. He accepts most insurance plans, including those from Delta Dental, Superior Dental, Dental Care Plus Group, CIGNA and GEHA/Guardian. To get your claim filed on your behalf, you can contact our office through our website.