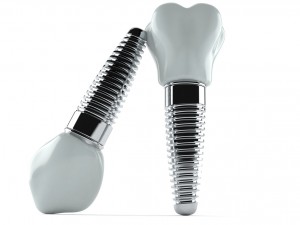 Your smile is your best feature – that's why that one troublesome tooth on the side of your mouth has always bothered you. Not matter how much you brush and floss, or how often you see your dentist in Centerville, it's just not as healthy as your other teeth. When it finally comes out, you're dismayed – you're not even 40, and you can't imagine having dentures already. But luckily for you, the team at Daniel J. Passidomo Cosmetic & Family Dentistry know that a dental implant in Centerville is the best course of treatment for you. In this post, they explain what these are, how they work, and how to tell if you're a good candidate for this superior restorative option.
What Are Dental Implants?
Dental implants are now the standard for replacement teeth. Dr. Passidomo will talk with you about your specific oral healthcare needs and he'll develop an individualized treatment plan especially for you. He explains that implants consist of three parts that form your replacement tooth:
Implant – A biocompatible titanium post will be surgically placed in your jaw and this will become the secure foundation you need. You'll need about 3-6 months to heal and allow the post to fuse with the bone before the next two pieces can be attached.
Abutment – This is the connecting piece between the implant and the tooth-shaped "cap." The abutment will then be affixed to the implant.
Crown – The part of the replacement that looks like the tooth itself is the dental crown. The long-lasting, naturally-looking porcelain crown will be secured to the abutment, restoring your smile to its former glory.
Are You A Good Candidate For Dental Implants?
The ideal patient for dental implants meets the criteria in the list below:
Your remaining teeth and gums are healthy.
Your jawbone is dense enough to support the implant.
You are dedicated to taking good care of your teeth.
You don't suffer from uncontrolled diabetes or other immune conditions that prevent your body from healing.
You're a non-smoker, or are committed to quitting and can avoid tobacco throughout the dental process.
You understand that the dental implants process generally takes at least 3-6 months for the course of treatment to be completed.
Are Dental Implants Superior To Other Artificial Teeth?
Yes – for many reasons, including:
Jaw Strength – Unlike bridges and dentures that cause your jawbone to recede from the pressure that occurs every time you chew, dental implants actually increase bone density and keep your jaw strong.
Longevity & Cost – While other replacement options may be less expensive up front, you'll actually save money with a dental implant over the course of a lifetime. Dental implants can last indefinitely with proper treatment, as opposed to dentures and bridges that last 15 years, max, and will need to be replaced.
Stay-Put Smile – Who wants to put their smile in a cup at night? You won't have to worry about the embarrassment of removable dentures in your daily life, even when you kiss your sweetheart. And, you can say goodbye to messy dental adhesives, too.
Now that you know all that dental implants can do for you, schedule your appointment with Daniel J. Passidomo Cosmetic & Family Dentistry to get your ideal smile back!